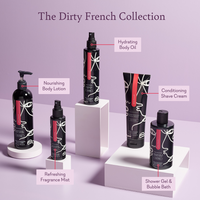 Conditioning Shave Cream - Dirty French
8 FL.OZ./240 mL
Experience a life-changingly smooth shave. This Conditioning Shave Cream is one of our most popular products for a reason. Our gentle, conditioning formula helps prevent razor bumps thanks to soothing ingredients like jojoba seed oil. Just apply a thin layer anywhere you want to shave—from bikini line to legs, underarms and beyond (you do you). Allow it to soak into skin, then, shave and rinse. Dirty French delights with an opulent display of wild orchid and juicy blackberries wrapped in whipped vanilla musk.
Features

● Helps banish bikini-area bumps and prevent redness<br>● Gentle enough for sensitive skin and all areas of the body<br>● Doubles as a moisturizing hair conditioner<br>● Soothing ingredients like jojoba seed oil soften follicles to help prevent ingrown hairs<br>● Designed for every body in tantalizing, feminine scents<br>● 8 FL.OZ./240 mL
Ingredients

Water (eau), Cetyl Alcohol, Cetrimonium Bromide, Stearyl Alcohol, Hydroxyethylcellulose, Glyceryl Stearate, PEG-100 Stearate, PEG-60 Lanolin, Simmondsia Chinensis (Jojoba) Seed Oil, Hydrolyzed Keratin, Panthenol, Allantoin, Phenoxyethanol, Methylisothiazolinone, Sodium Hydroxide, Fragrance (parfum).
Directions

Wet skin and apply a thin layer of Conditioning Shave Cream. Allow a few minutes to soak into the skin. Shave and rinse. For conditioning hair: Shampoo and rinse well, then apply a small amount of Conditioning Shave Cream and massage into hair. Leave on 1 to 2 minutes. Rinse thoroughly.
Conditioning Shave Cream - Dirty French
8 FL.OZ./240 mL