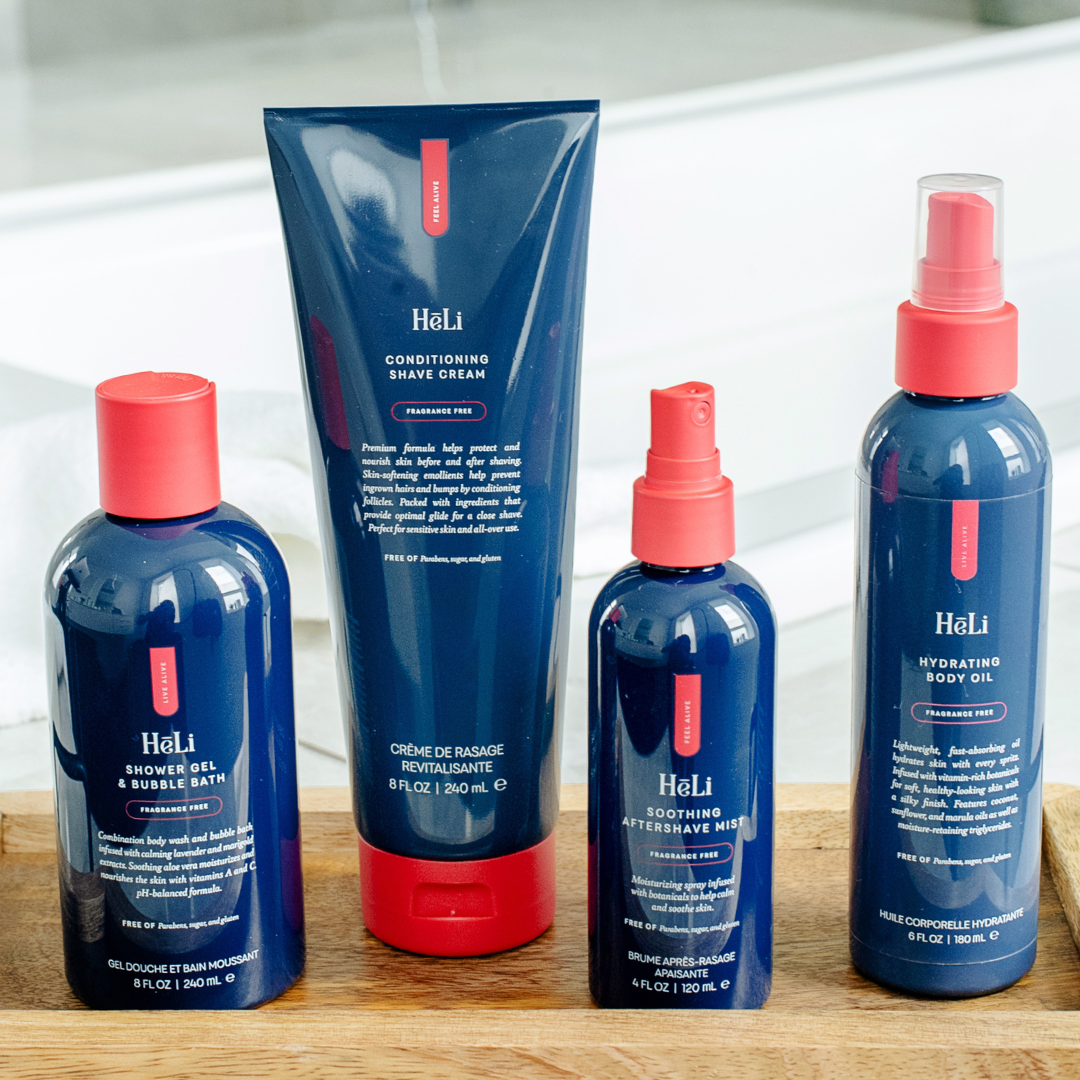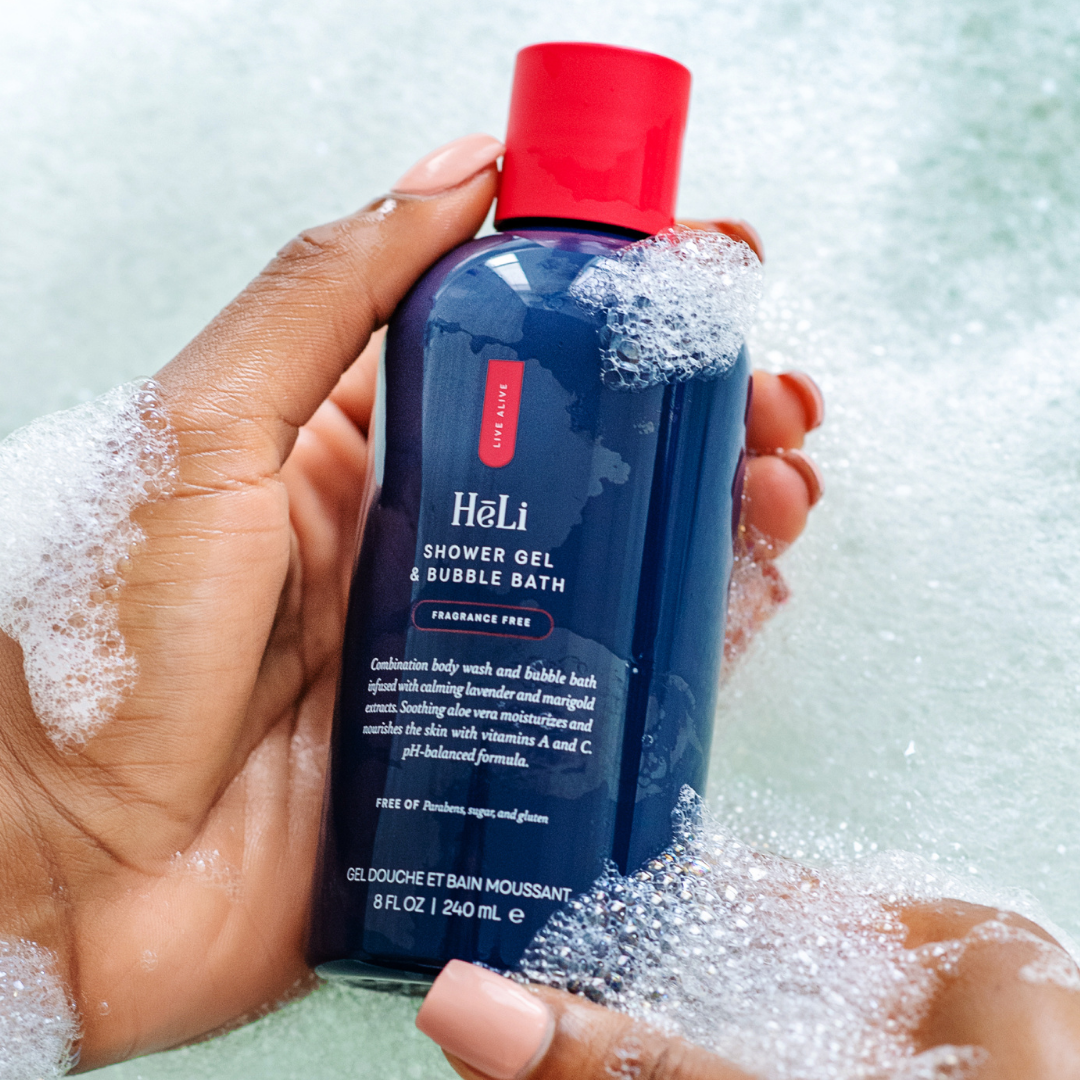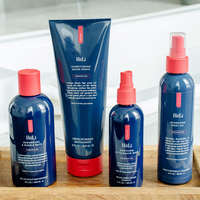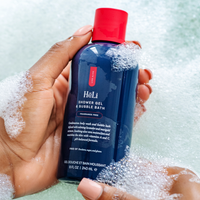 Shower Gel & Bubble Bath - Hēli Original
8 fl. oz./240 ml
Shower your skin with the cleansing botanicals of HēLi Shower Gel & Bubble Bath! This get-clean essential is pH-balanced and infused with lavender and marigold extracts, botanicals known to calm skin and help reduce redness. This plant-inspired 2-in-1 is also made with rejuvenating green tea extract, a natural antioxidant, as well as aloe vera, an anti-inflammatory rich in Vitamins A and C.
Features

• Inspired by nature, products in our HēLi collection help balance mind and body. • Natural, plant-derived ingredients. • Formula is infused with skin-calming aloe extract, known as an anti-inflammatory. • Marigold flower extract and lavender help reduce redness and swelling, leaving your skin smooth and calm. • Soothing green tea leaf extract is rich with antioxidants. • Gentle shower gel/bubble bath formula is ideal for most skin types and can be used daily. • The HeLi bath line is paraben-free,gluten-free, fragrance-free, and sugar-free. • Not tested on animals
Ingredients

Water (Eau), Sodium Cocoyl Isethionate, Decyl Glucoside, Cocamidopropyl Hydroxysultaine, Sodium Olivate, Glycerin, Aloe Barbadensis Leaf, Camellia Sinensis Leaf Extract, Lavandula Angustifolia (Lavender) Extract, Calendula Officinalis Flower Extract, Guar Hydroxypropyltrimonium Chloride, Phenethyl Alcohol, Caprylhydroxamic Acid, Dehydroacetic Acid, Sea Salt, Citric Acid.
Directions

This 2-in-1 Shower Gel is pH-balanced for use as a shower gel and bubble bath. To use as shower gel, dispense into washcloth, sponge, loofah, or hands. To use as bubble bath, pour under warm running water as tub fills. Tips: Store at room temperature. WARNING: DO NOT USE IF QUALITY SEAL IS LOOSE, BROKEN, OR MISSING. FOR EXTERNAL USE ONLY. AVOID EYE AREA. IF IRRITATION OCCURS, IMMEDIATELY RINSE WITH WATER AND DISCONTINUE USE. IF IRRITATION PERSISTS, CONSULT A PHYSICIAN. KEEP OUT OF REACH OF CHILDREN. INTENDED FOR ADULT USE ONLY. DO NOT USE IF YOU HAVE A KNOWN HYPERSENSITIVITY (ALLERGY) TO ANY OF THE INGREDIENTS. NOT TESTED ON ANIMALS. MADE IN THE USA.
Shower Gel & Bubble Bath - Hēli Original
8 fl. oz./240 ml